2021 Ceritas "Occidental Vineyard" Pinot Noir, Sonoma Coast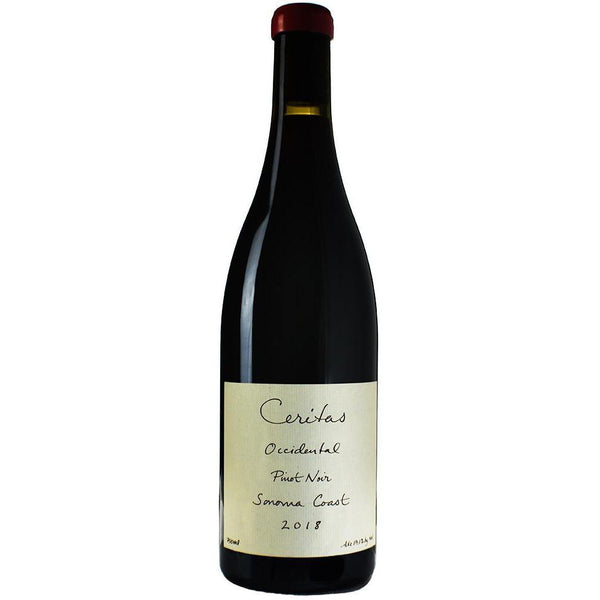 The technique is amazing, but the climates are different. But…if there were American wines that brought to mind the wines of Burgundy, Ceritas would be near the very top. Crisp, mineral, with just the right amount of California sunshine: Ceritas Chardonnays are likely the closest thing America has to Grand Cru Chablis. The Pinot Noirs are a thing of beauty. Rich on the front, but super bright and elegant on the finish. Ceritas means "mineral expression of the soil." That sounds just about right. The owners are John Raytek (also the winemaker) and his spouse Phoebe Bass. John cut his teeth at as the assistant winemaker at Copain and later helped plant the vineyards at Rhys.
"One of the sites we longed for holding was the Occidental Vineyard on Taylor Lane. Steve Kistler planted this site (in partnership with the Dutton family) in 1990 using heritage selection massale Pinot Noir material. For many years, this site supplied grapes for his coveted Cuvee Catherine. The Dutton's decision to sell the property in 2009 to Evening Land. On either side of the vineyard lies Theriot Vineyard (Littorai) and across the street is Summa (Rivers-Marie and William Seylem) and down the road is Que Syrah (Arnot Roberts).
Ceritas signed a long-term lease in 2016 allowing us to work the site as we would like. The site is perfectly situated. South Facing. Heritage selection massale clonal material. Blue schist soils with moderate clay content. Well-drained due to underlying bedrock. Dry farmed. We could not be more excited about working with this site." -- Winery