Radikon "RS" Rosso, 750ml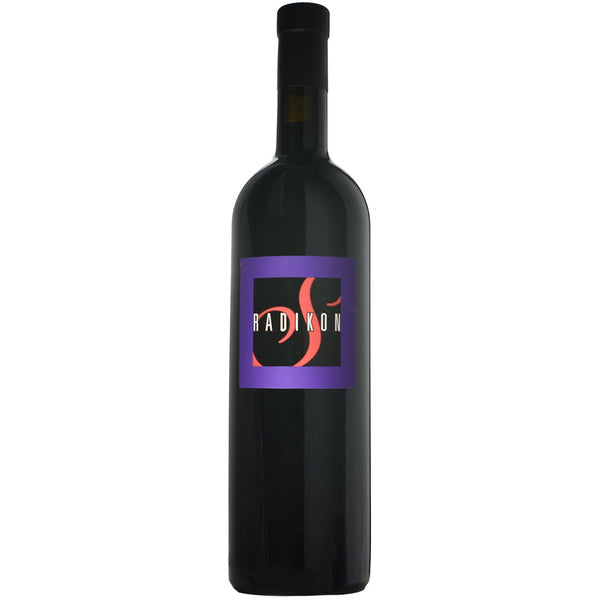 Radikon is without a doubt one of the greatest "natural" wine producers in the world. In the rolling hills of Collio in the northern Italian region of Venezia Giulia, Stanko Radikon, along with iconic neighbors like Josko Gravner and Edi Kante and Movia, helped create a movement by exploring indigenous varietals made with prolonged skin contact and avoiding the use of sulfur. Sulfur is, of course, used in almost all great wines in the world because it protects the wine from spoilage and oxidation. Making wine without sulfur is incredibly risky and takes the utmost care and dedication to cleanliness. Unfortunately many wines that are sold as "natural" smell like a bacterial soup. But not Radikon. I have never tasted a bad bottle of Radikon. They are remarkably consistent, which is an incredible achievement that owes to Stanko's relentless perfectionism.
Stanko started making wines in 1979 and for 36 vintages relentlessly strove to create uncompromising wines. His style evolved a great deal over his career, eventually returning to the winemaking style of his grandfather. In 1995, he decided to reintroduce this long skin contact maceration in his wines and abandoned the use of all chemicals, which at the time was fairly controversial. His reasoning was that, for skin contact wines, where the skins play the fundamental part in the wine, the juice could not be macerated if pesticides were present on the skins. This skin contact advanced as time went on, with many of his cuvées now seeing 30 days on the skins.
Stanko's imagination was not limited to winemaking. He also decided that that the conventional 750 milliliters was not the right size for his unsulfured wines. For two people who may like to share a white and a red with dinner, he reasoned, 500 milliliters was a much better size, so his unsulfured wines were produced in half-liters or liters. 
Unfortunately, Stanko died in 2016, but the estate has remained in family hands and is now helmed by Stanko's son Saša, who has worked side by side with his father since he was a boy. 
Saša has decided to add 750ml bottlings to his dad Stanko's original 500ml line: they are still "orange" wines but less intensely so due to a shorter period of skin contact and aging. Otherwise, all of the wines are made identically.
The "RS" is 75% Merlot/25% Pignolo. The vines are planted on ponca, a compressed, flaky clay of marl and sandstone that is typical in this part of Friuli. They grow on a south-facing slope right by the winery; average around 30 years old; yield about 45 hl/ha; and are farmed organically and harvested by hand like all Radikon vineyards. The grapes are destemmed and spontaneously co-fermented in 25-hectoliter oak vats without the addition of yeasts, sulfur or temperature control. Maceration is about two weeks with punchdowns 3-4 times per day initially. The wine is aged in vat for two years and bottled without fining or filtering. "RS" or "Rosso Sasa" debuted in 2014, was made again in 2017 and once more in 2018; it is part of the 750-ml "S-line", the "S" being for its creator, Sasa Radikon.